Description
Thousand Yard Stare – Keepsake EP
Label: Stifled Aardvark Records
Catalog#: AARD 004 (Numbered 1188)
Format: Vinyl, 10″, EP, Yellow
Country: UK
Released: 1991
Genre: Pop, Rock, Shoegazer, Indie Rock
A+ The band that should have but didn't. Live were superb. Stifled the aardvark much too soon.
Tracklist:
A1 Buttermouth 4:29
A2 Twicetimes 4:01
B 6:40
B1 Weatherwatching One 3:43
B2 Another And On 3:04
Combined time for tracks B1 & B2 is listed. Actual times are 3:43 & 3:04.
THOUSAND YARD STARE Keepsake 1991 UK limited edition 4-track 10″ pressed on Yellow Marbled Vinyl, including Buttermouth, Twicetimes, Weatherwatching One and Another And On, title-stickered plain sleeve AARD004
The Media Condition is Excellent
The disk looks great,  it may have very light or  minor visible marks or wear,  but when playing there should be very minimal or no surface distortion. It may have very minor warp wobble.  The label looks really good.
The Sleeve Condition is Excellent
This  sleeve almost looks new, but may have minor edge wear,  creasing or marks,. Overall the sleeve looks excellent.
Thousand Yard Stare were an English band from Slough, Berkshire active during the early 1990s, prior to the Britpop explosion. Supporting popular bands on the indie circuit such as James and Carter The Unstoppable Sex Machine, the band also released several EPs.
NME nominated Thousand Yard Stare as "brightest hope for the future". In June 1991, the Keepsake EP reached the top spot in both the NME and Melody Maker independent charts. That summer the band performed at the Reading Festival, further raising their profile and leading to their stint as support for James in October and November of that year. In the Autumn, the band began the sessions for their first album, the first fruit of which was another EP. Seasonstream EP was released on Stifled Aardvark Records in 1991, their last independent release on their own label. The Seasonstream EP began with a track titled "0-0 a.e.t", (which means "No Score After Extra Time"), a football metaphor laden song that featured Martin Bell of The Wonder Stuff on fiddle. This single again topped the Indie music charts, and reached number 65 in the UK Singles Chart. With the backing of the major label Polydor, Thousand Yard Stare went on to release a further three EPs, and two studio albums. (Hands On and Mappamundi) were both produced by Stephen Street, who had already produced records for The Smiths and Blur.
However, neither of the albums made much of an inroad into the mainstream market, and the band became eclipsed by the burgeoning Britpoppers such as Suede, Blur and Elastica.
---
Cult heroes: Thousand Yard Stare – Slough's indefatigable jacks of all trades
One of the UK's most active 90s live bands, this pre-Britpop five-piece were lumped in with shoegaze. But – as shown by the only song ever dedicated to the 0-0 draw – their lyrical touch gave them an extra edge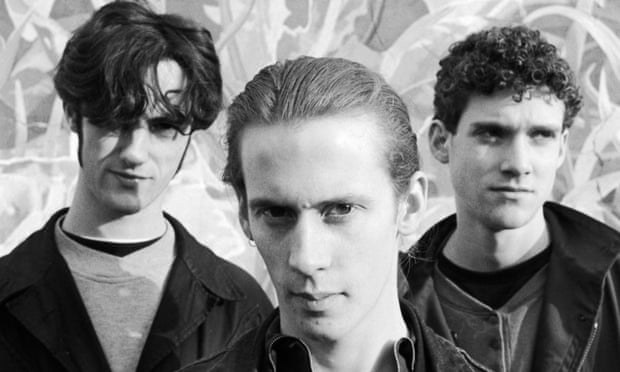 Slough is having a bit of a moment. As David Brent sings the town's praises in the new Office movie ("it's equidistant 'tween London and Reading"), the local football team are preparing to make a long-awaited return to the town after almost two decades of exile. Meanwhile, a band who regularly stood on the terraces at the old Wexham Park stadium cheering on Slough Town FC are preparing for their first UK tour since they split in 1993.
Among the dozens of recent reformations in the world of indie, Thousand Yard Stare's decision to get back together for a one-off show at London's Borderline last year was not one of the more heralded. But then that came as no surprise to a band who once sold T-shirts emblazoned with the inscription Thousand Yard Who?
Like many of the bands who emerged in that strange hinterland between Madchester and Britpop, Thousand Yard Stare's legacy is probably best summed up by those fading, longsleeved shirts every self-respecting indie kid was wearing in the early 90s. But there was fine music, too, and listening to the band's new album – which features newly recorded versions of the songs from their slim back catalogue – it's not hard to see why they're so fondly remembered by their diehard fans.
TYS struggled to fit in from the start. After forming in 1990, Stephen Barnes (vocals), Giles Duffy (guitar), Sean McDonough (bass), Kevin Moxon (guitar) and Dominic Bostock (drums) soon earned a reputation as one of the most active live bands of the time and forged a niche as a support for hire. Too polite and clean-cut to be lumped in with the Midlands grebo crowd, they soon became synonymous with the punky likes of Senseless Things and Mega City Four before their Thames Valley origins saw them become shoegazers by association.
In truth, it was hard to pin down just what TYS were doing. United by a love of oddball eccentrics Cardiacs, they also seemed strongly influenced by James's celebratory folksiness, but they were equally unafraid afraid to tap into the indie-dance sound or set off on a manic guitar-driven instrumental, as heard on their debut single Wonderment. There was an American influence, too, but it came from REM rather than Nirvana. Releasing their early singles on their own Stifled Aardvark label (it seemed funny at the time), the five-piece quickly developed a Windsor-based scene around the local college, the Revolution record shop and venues like the Arts Centre and the sadly missed Old Trout (best known for hosting pre-Reading festival shows by the likes of Pixies).
Key to the band's success was the lead singer: always a man-about-town, Barnes put on indie nights at the college and his dogged persistence secured TYS coveted support slots with the likes of Ned's Atomic Dustbin, Carter USM and the Sandkings. With his bowl cut and long sideburns, the frontman also stood out in a period when fashion sense left the indie world far behind. And then there were his words. At a time when lyrical depth was stretching to killing your television or the size of a cow, the cricket-loving Barnes wrote about "books and clocks and ancient rocks" before pre-empting Damon Albarn's Britpop battle against all things stars'n'stripes with the chorus of Cottager: "Sorry if I spoiled your American dream, don't want to drown in your river, want to wallow in my stream." On the band's best-known track, he even managed to carry off that most difficult of tasks and produce one of the finest ever football metaphor songs. 0-0 a.e.t. (No Score After Extra Time) hurtled along on a wave of jangling guitars and fiddle from the Wonder Stuff's Martin Bell.
With matey appreciation and a close connection with your audience soon replaced as the lingua franca of indie by the arrogance and blockbuster hits of Britpop, TYS were quickly branded as yesterday's men despite a spirited effort to reclaim some ground with their second album Mappamundi (maps were a big thing in TYS folklore) and the nearly-hit, and fan favourite, Version of Me. Polydor dropped them, and the band quickly split before reforming without Barnes as Euphoria, with less-than-euphoric results.
In the intervening years, Barnes has remained in the industry, managing younger bands and lecturing them on the pitfalls of major labels and the genius of Cardiacs. Meanwhile, TYS's devotion to touring endlessly across the British isles two decades ago has paid off with their newly announced shows selling well, and the band once again taking their place alongside many of their early 90s contemporaries on the lineup of November's Shiiine On Weekender. Brent would be proud.