Description
1989 "Destroyed"
1989 "Power" UK No. 82
1990 "Wild and Wonderful" UK No. 50
The ALMIGHTY: Blood Fire & Love LP 1989 review video:
With so many glossy Poison clones and generic Warrant imitators flooding the hard rock market in the late 1980s and early '90s, The Almighty proved to be a fresh air. A press release likened Blood, Fire & Love to ""the soundtrack for a biker bar"" — an honest description of a freewheeling, gutsy effort that never sounds contrived or formulaic. In contrast to so many of the ""hairspray"" bands out at the time — many of which seemed to be more concerned with their image than their music — the Scottish band (which had a small following) thrived on spontaneity and rawness. Inspiring comparisons to bands ranging from the Cult to Steppenwolf, the Blood Fire & Love LP was one of the finest hard rock LPs of 1989
The Almighty are a hard rock/heavy metal band, from Glasgow in Scotland who formed in 1988. Most of the musicians came from a punk background. Lead singer Ricky Warwick had previously done some session and tour work with New Model Army, although not on any of their recordings. Ricky, Stump Monroe and Floyd had previously played together in a local band called Rough Charm.
They were signed by Polydor in March 1989 and released their first album, Blood, Fire and Love. In the same year they were voted in third place on the Kerrang! readers poll for Best New Act.  In 1990 they toured the UK and also embarked upon a short US tour in an attempt to break into the American market.
Title
1. Resurrection Mutha
2. Destroyed
3. Wild and Wonderful
4. Blood, Fire and Love
5. Gift Horse
6. You've Gone Wild
7. Lay Down the Law
8. Power
9. Full Force Lovin' Machine
10. Detroit
11. New Love Sensation
Debut album Blood, Fire & Love, released in 1989, was precisely the kind of balls-out statement a band named The Almighty had to make. There were echoes of The Cult's Electric in the riffing of Power, the rattle of Motörhead in Destroyed. And if Warwick was all machismo on Full Force Lovin' Machine, there was a genuine pop sensibility in Wild & Wonderful, and an emotional depth to the album's title track, with Warwick crooning like Jim Morrison.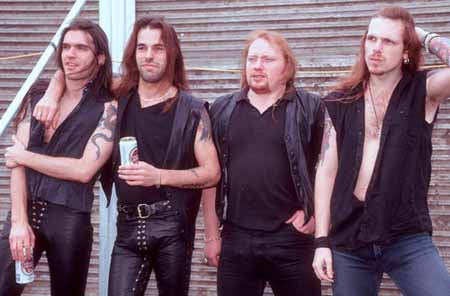 this LP rocks !!!!!!!!, AL-FUCKING-MIGHTY
Cool mix of the Cult, Crue and the Doors. Fun lyrics too.
This is ballsy, hard-edged 80s-style metal with cranking guitars, crunchy chords, & plenty of attitude. This LP will get your blood pumping, get you fired up, & make you love this band.
High octane barn-burners like 'Detroit' deliver the goods in a major way. 'Resurection Mutha' dramatically heightened this Scotland bands belligerent rise to a respective hard rock legend!!!
'THE ALMIGHTY' they take no prisoners!!! Their debut, was the most exciting, decadent album since 'Appetite For Destruction'!!!
This thang is balls-out, combining the power of early 'Kiss', the catchiness of 'Zodiac Mindwarp', and the Bombastic appeal of 'The Cult's-Electric'!!! This is festive Raunch N' Roll with pure misdeed head banging oozing out of it's bone crunching anthems like 'Detroit' and 'Resurection Mutha', pure power and attitude! God bless The Almighty for putting their Rock into Rock N' Roll! So now my children, you should all be a little wiser and un-brain washed from your everyday misspent lives!!!
The Almighty were by far the best hard rock/metal band gigging around UK in the early 90's. This, their debut album was unfortunately the only time they got anywhere near capturing their live power on vinyl. This album simply rocks!!!!!
How awesome is the pre-chorus on 'Destroyed'!!! What a killer moment on this disc! Overall, I like this band. Good solid in-your-face hard rock.
One of the greatest, along with the SEA HAGS, THE ROYAL COURT OF CHINA, THE 69 EYES, LA GUNS, ROXX GANG.
great hard rock band with full power melody
great debut album from this band they came out from the UK but still rocks like the sunset strip.