Description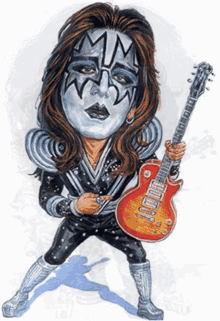 Label: Casablanca ‎– NBLP 7020
Format: 2 × Vinyl, LP, Album, Second Pressing
Country: US
Released: 1976
Check all audio, all 16 songs: 
Alive! is Kiss' fourth album and is considered their breakthrough, as well as a landmark for live albums. Released on September 10, 1975, the double-disc set contains live versions of selected tracks from their first three studio albums, Kiss, Hotter Than Hell, and Dressed to Kill.
Despite Kiss' reputation as a live act, which emphasized theatrics (such as explosions, smoking guitar solos, fire breathing, and blood spitting), as much as it did the music, their notoriety did not translate to increased record sales. Kiss was essentially surviving on then-manager Bill Aucoin American Express card. Complicating matters was the fact that their label, Neil Bogart Casablanca Records, was having financial difficulties of its own stemming from a major misstep: the label had released a double album of Johnny Carson monologues earlier in the year. However, the album was a flop, and Casablanca Records had pressed millions of copies in anticipation. The band and Aucoin were nevertheless able to convince Bogart that a memento of a Kiss show would boost their album sales.
Years later, both guitarist Paul Stanley and bassist Gene Simmons recounted that in the weeks after the release, they saw a significant increase in concert attendance. In the documentary Kiss: X-treme Close Up, Stanley remembers that at one particular show in Dayton, Ohio, ""the place was packed; I mean you couldn't have gotten another person in with a shoehorn.""
Overdubbing controversy
There has been considerable debate as to how much use was made of studio overdubs. Gene Simmons states in his autobiography Kiss and Make-Up that very little corrective work was done in the studio and that most of the studio time was devoted strictly to mixing down the multi-track recordings. He also emphasized that Kiss could not have done extensive overdubbing even if they had wanted to; thanks in no small part to the Johnny Carson album fiasco, the extremely meager budget allotted to the band simply would not allow it.
According to Dale Sherman book Black Diamond and Goldmine magazine, in the early 1990s, Eddie Kramer stated there were a few overdubs to correct the most obvious mistakes: strings breaking or off-key notes, for instance. However, in recent years, Kramer has stated that the only original live recording on the album is Ace Frehley guitar. In a recent televised interview, he also stated the only original live recording on the album is Peter Criss' drums. In addition, on the recent VH1 special of the story of Kiss, the band members themselves make it more known that the album was severely doctored in the studio, and various musicians comment on the album in this special, revealing how disappointed they were to find out their heroes doctored the supposed ""live"" album in the studio.
Paul Stanley has noted that there a bass mistake in the choruses of ""C'mon and Love Me."" He also made comments that even though there have been live albums recorded later that make Alive! sound like it was recorded in a washroom, he has no qualms about it.
It peaked at #9 on the album charts. The album charted for 110 weeks, by far the longest in the band history.
In 2003, the album was ranked number 159 on Rolling Stone magazine list of the 500 greatest albums of all time.
Check audio review:  http://chirb.it/2BJ7x7    or    https://voca.ro/fkDEBjwbXg7
Track listing
# Title Writer(s) Lead vocals Length
1. ""Deuce"" Gene Simmons Gene Simmons 3:32
2. ""Strutter"" Paul Stanley, Simmons Paul Stanley 3:12
3. ""Got to Choose"" Stanley Stanley 3:35
4. ""Hotter Than Hell"" Stanley Stanley 3:11
5. ""Firehouse"" Stanley Stanley 3:42
6. ""Nothin' to Lose"" Simmons Simmons, Peter Criss 3:23
7. ""C'mon and Love Me"" Stanley Stanley 2:52
8. ""Parasite"" Frehley Simmons 3:21
9. ""She"" Simmons, Stephen Coronel Simmons, Stanley 6:42
10. ""Watchin' You"" Simmons Simmons 3:51
11. ""100,000 Years"" Stanley, Simmons Stanley 12:10
12. ""Black Diamond"" Stanley Criss, intro by Stanley 5:50
13. ""Rock Bottom"" Frehley, Stanley Stanley 4:59
14. ""Cold Gin"" Frehley Simmons 5:43
15. ""Rock and Roll All Nite"" Stanley, Simmons Simmons 4:23
16. ""Let Me Go, Rock 'n' Roll"" Stanley, Simmons Simmons 5:45
Paul Stanley – rhythm guitar, vocals
Gene Simmons – bass guitar, vocals
Ace Frehley – lead guitar
Peter Criss – drums, vocals
---
How Kiss changed my life, by Charlie Benante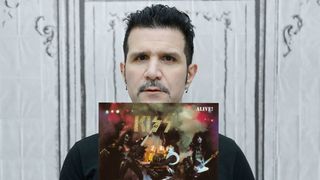 The first time I ever heard
Kiss
' 
Alive!
, I was at a party at a friend's house. The only thing I'd heard prior to that as far as Kiss was concerned was 
Dressed To Kill
. I was already a fan because of that, but when 
Alive!
 came out, it was a totally different thing.
The thing I remember most about it was just staring at the package – it opened out to a gatefold and there was a huge booklet in it. I just remember staring at it and being like, 'What the hell?!' Because you would listen to the record and visualise in your own mind how it was. You had all these different things.
I remember early on, when I first heard Kiss, I used to think that Paul Stanley's voice was Gene Simmons. It was very weird when I saw them on a TV show called The Midnight Special and I was like, 'Wait a minute… he's not supposed to be singing that!'
I don't think I could say that any of the songs are my least favourite, because I loved every single one on that record. I remember just playing it continuously, over and over again. I loved the way side one would kick in – it was like the introduction was the beginning of the show.
Then you get to the middle portions – sides two and three – and side four was the big ending; I'll never forget listening to Black Diamond and thinking, 'What the hell is going on?' The explosions and everything. [The tracklist] is a little out of sequence – actually, it's not even a live show; they totally re-recorded it. But who cares? It fooled me back then.
I loved Peter Criss' drumming on Alive!. I think he was one of the big influences as far as having a huge drum kit goes. 'Look at all these drums. What's he doing with all these?' Because at the time, you'd have the 'five-piece' drummers out there, like John Bonham and Joey Kramer. After Peter, Neil Peart had the big kit also.
The end of '76 was when I saw them live for the first time. Alive! prepared me. I was like, 'Dude, this is fucking crazy!' I just couldn't believe it. Everything was going on. I just couldn't focus on one thing. It was an assault on my senses. Most of the bands at the time really didn't put on that type of show the way Kiss were doing; it was more or less getting up on stage and playing. It wasn't, y'know… Kiss.
Kiss made me realise that this is what I'm going to do with my life. And that mindset just stayed with me; it never left. Before that, I wasn't really taking it as seriously as 'I'm going to make a living do this'.
I absolutely still listen to Alive!. I listen to it sometimes right before we play – it pumps me up . It puts me in a different state of mind.