Description
VERY RARE Only a couple ever made, this is one of those ultra rare shirts from this top prog Norwegian band.
T-Shirts on sale here are not ironed (that's why they are wrinkly) but they are washed.
FIG LEAF MUSEUM: Hum CD. CHECK EXCLUSIVE VIDEO. Ultra rare ORIGINAL 1993. VERY LIMITED private print. Norwegian Progressive Gods
---
FIG LEAF
Progressive Metal • Norway biography
FIG LEAF started up in 1990 as a five piece under the name FIG LEAF MUSEUM. Aage Skar – guitar, Paal Iversen – drums, Gunnar Berg – keyboards, Steinar Ellefsen – vocals and Egil Troa – bass. This line up lasted about a year. Steinar left and was replaced by Leif Lunde. This did not work out, and by this time bass player Egil Troa was already drifting away. The bass was taken over by Rolf Bakken. This line up made the first recording 'Hum' in 1992.
This was an extremely low budget project, and the sound leaves no doubt about that fact. Still struggling to find a singer, the quartet became a trio with Gunnar taking over the vocals.
In Autumn '94 the trio was contacted by Per Flaa, who demanded to join in. By May '95 this line-up shortened the name to FIG LEAF and in the Autumn the first real FIG LEAF album 'Plays Bob W. & Other Selections', saw the light of day. And in '97 'The Humble Poet' was released.
The sounds of the band is compared by many to the sound of the '70s. This might be due to the slightly aged equipment they like to play: Rhodes electric piano, Leslie 760, Mesa Boogie, Gibson and Stratocaster. FIG LEAF are influenced by bands such as KING CRIMSON, GENESIS, ELP, as well as bands like ZAPPA, SANTANA, HENDRIX, The STONES, The WHO, YES, MEGADETH and Peter HAMMILL.
The band themselves were quite surprised to find that as well as the obvious prog rock fans coming to their concerts, but also there were a lot of doom, death and black metal fans too.
---

 The opening track is 'Paddling', which has an intro that starts off like a shoot-out in a movie with the sound of shots being fired and a lot of swearing, then the music begins. This first track shows Fig Leaf taking on a slightly heavier approach than on thier previous albums. 'Paddling' has a fabulous driving rhythm with some stunning keyboards and guitar. Nice vocals from Per Flaa.
The next track is 'This Song', this track starts with a wonderful drum and bass rhythm before a Zappa like sax solo comes in. Theres also some excellent guitar work and then the whole thing quietens down when the vocals come in. From this point the music then gradually builds up with some superb bass and drums and then some superb keyboards. Then it's the turn of Aage on guitar for some breathtaking work. Wonderful vocals and at the end of the track everything fades to the noise of some feedback.
The third track 'Cycle Of Events', this is another track that features some superb sax. Theres quite a jazz feel to this trac, but also this track features some fairly heavy guitar work too. Towards the middle of the track the music mellows out when the vocals come in, but it's not long before theres a wonderful rhythm guitar playing, next a sax solo and then it's back to more heavy guitar with some atmospheric keyboards playing in the background.
The next track 'Dinner At Uncle Uncool's', is split into 2 parts. a) music b) recipe. The track starts with some intricate guitar, lovely keyboards, beautiful percussion and a mellow guitar solo to die for. This is a beautiful track with a recipe used as the lyrics to the song. Don't believe me, well here are the lyrics.
meat and flour sweet and sour butter, oil, onions brocolli and electric power, parsley and pepper tomatoes and shrimps, meat stock, salt, basil ccok 1/3 of an hour pasta and shredded cheese sizzle
then it's more wonderful keyboards and guitar.
The sixth track 'Kings and Court Jesters', this track has a fairly heavy rhythm to it with the flute thats incorporated, this gives the track a medieval feel to it, a bit like some of Gryphon's music. The vocals are once again wonderful and theres also some spacey keyboard effects.
The next track is the title track 'Fearless' and this has 8 parts to it.
Part I – this starts with some keyboards that have quite an orchestral, even symphonic sound. The music does have quite a classical feel to it. Then in comes some heavy guitar which later fades down to a Rhodes/Hammond organ sound. This to me is the sound I kind of associate with Fig Leaf, lots of Hammond organ, Rhodes piano, great rhythms and some stunning guitar work combined with the wonderful vocals from Per Flaa. Theres a very solid drum sound and some great bass. The music changes direction, mood and tempo fairly often within this part, theres also the sound of birds and a flute playing in the background and towards the end theres a sax solo. It kind of reminds me of the sax on Breaking Glass by Hazel O'Connor although it also reminds me a little of Pink Floyd too, then it's back to more guitar flowing into…
Part II- soon after the start of this track theres a change in direction, and this track takes on a more Hard Rock approach. Theres a great rhythm and some great guitar work and keyboards… Part III- this is another heavier track which has it's moments when it goes more into Part IVa fairly laid back rock song. Some of the guitar work reminds me The Eagles and towards the end of the track theres a wonderful guitar solo…
Part IV- dreamy sounding keyboards with the vocals having an echo effect. The music then builds up to a heavier sound. At this point theres some nice keyboards and a great rhythm followed by a breathtaking guitar solo, then it's back to a wonderful rhythm section and on to a superb sax solo. Then it's time for another wonderful guitar solo, sax solo and finally more stunning guitar work. Then thers another change in direction and the music quietens down for some intricate guitar work followed by some atmospheric keyboard sounds which continue into …
Part V- and takes on more of a Hawkwind/Pink Floyd/ Steve Hillage kind of sound. The keyboards are just stunning and towards the end, the music quietens down to some intricate guitar work and atmospheric keyboards…
Part VI- The vocals to me at the start of this track are done in a Peter Hammill style. Then a heavy guiat comes in and it's all hell breaks loose for a full head onslaught from the band. Once again great rhythm, superb guitar. As the track changes to…
Part VII- theres a change in direction. Theres quite a funky rhythm from the guitar, then some Rhodes piano and then another wonderful rhythm and some superb guitar…
Part VIII- the vocals are quite mellow, the guitar has some moments when it takes on more of a distorted sound and theres also some nice keyboards. The vocals on this track remind me somewhat of Kevin Ayers. After a few minutes the band come in for an all out attack to finish the piece.
Track 15 is 'Santa Cruz', acoustic guitar track with great vocals, in a way it's a little similar to a Pink Floyd track 'San Tropez' on the Meddle album. Towards the end of the track a choir is added and it just sounds like theres a lot of people having a lot of fun.
For me Fig Leaf just seem to improve with every release. Although I would have to say that this is probably Fig Leaf's heaviest release and in some parts, they have moved away from the progressive rock sound. But there are parts when it is progressive rock and I think if your prepared to give this album a listen, then you too will beome a Fig Leaf fan.
Highly Recommended!!!
FIG LEAF: Plays Bob W. n other Selections CD (original 1995) MEGA RARE Norwegian Progressive Gods w.balls. Fantastic 75 min CD

 Plays Bob W. and other selections is the first real Fig Leaf album, and having reviewed Fig Leaf's other two albums already, I found this more difficult to review than I had anticipated.The music is quite similar to 'The Humble Poet', (Fig Leaf's second album) with the wonderful sounds of the Hammond Organ that Fig Leaf have incorporated into their sound, coupled with the stunning guitar work from Aage and the lovely vocals from Par, this is another extremely good album.
To be honest, I cannot really pick out any one favourite, as all of the tracks on this album are just superb. All I can say is that, if you haven't bought any Fig Leaf albums yet, then I suggest you start here and get this album first.
On viewing the cover, I was immediately drawn to the smoking chimneys and the green cow, which made me think of Pink Floyd (Animals and Atom Heart Mother) and to a degree I would have to say that fig Leaf's music have some Pink Floyd influence as well as King Crimson, Genesis, ELP, Zappa, Santana, Hendrix, The Stones, The Who, Yes, Megadeth and Peter Hammill.
Highly Recommended!!!
---

 The opening track is 'New Ship', this is an excellent track starting with what sounds like a Hammond organ coming in, this is followed by some great guitar and bass. There's a fairly fast rhythm, nice combination/interaction between keyboards and guitar. Great vocals from Per, whose voice just fits in this type of music perfectly. There's a superb rhythm, some stunning guitar work. There's also a slight jazz element to this track. Later there's some superb bass and keyboards. The next track is 'The Humble Poet', probably my favourite track on the album. The opening sequence is very similar to a GENTLE GIANT track called 'Wreck'. It's not exactly the same, but there are similarities between the two. But putting that aside, this is a stunning track. The opening riff comes in builds up to a climax then changes direction. The mood then quietens down with what I can only describe as a low-key kind of buzzing Hammond organ (you would have to hear it, to know what I mean). Per's vocals take on the melody and then after a short while the band come back in . This track has just been put together wonderfully with just hints occasionally of acoustic guitar, bells, and wind effects and some nice harmonies. There's also a superb guitar solo and a great melody. (it's quite difficult to get past this track as you just want to keep pressing repeat). The third track 'Shadowlands' starts off fairly quietly with some nice acoustic guitar followed by some excellent electric guitar. Great vocals. There are occasional moments of some heavier guitar work with some stunning lead. There are many times within this track when the music changes direction. This is another great track. The next track is 'And Then She Flies' and to be honest I just don't know what to make of it. It starts with some great classical, even medieval sounding acoustic guitar, nice soft vocals from Per. It sounds like quite a sad song.But when Per is singing…
" softly with careful feet she flies – vaguely wobbly carefully stepping forward she tries – vaguely wobbly……"
When he's singing the words 'vaguely wobbly', it just makes me laugh. So I am not quite sure if this is supposed to be a serious song or whether those words where put in, to make us laugh. 'On The Seventh Day', starts with a bass note being played followed by some atmospheric keyboards in the background and some intricate guitar work over the top. This then slowly builds up to a climax and stays there. The music carries on with some emotional vocals from Per. Great riff and wonderful keyboards.
The sixth track 'Hi There', superb keyboards, very heavy bass and some superb guitar. Again this track has a great riff, but it is quite similar to the last track. Per's vocals on this track have more of a raw feel to them. The next track 'Anyway', a nice track with some nice acoustic guitar is quite reminiscent of an early PINK FLOYD track. The eight track which has no title is atmospheric/ambient keyboards effects lasting just 22 sec. The next track 'The Critic' has some great guitar and keyboards. There's a great rhythm and some excellent Rhodes piano reminding me a little of SUPERTRAMP. Stunning guitar solo. Track 10 is 'Thanks', nice track with acoustic guitar, nice keyboards and great vocals. There's some fine flute and quite a nice melody. This track fades and finishes at 3:18. There is then silence for approx 2 minutes (unless you can fast forward to 5:20 then a hidden track emerges.
I would take it the track it called 'Alakazoo, Alakazaa', you will find the word to this song in the middle of the booklet you get with the CD. This is a strange track really. It starts off very slow and dreamy, the kind of thing you could imagine listening to on a romantic night with your girlfriend/boyfriend/wife/husband or being played as the last dance. You know the type of thing except for a few moments when it gets slightly heavier. Nice guitar an keyboards and some excellent whammy bar!!
But then suddenly the music changes direction becoming very Pink Floydish with some 'Echoes' type keyboards and nice guitar work over the top. Then it comes back a little heavier with some more vocals from Per. Excellent bass and drums. Nice intricate guitar work and some superb keyboards, followed by a stunning guitar solo. Boy, this is great stuff!! The track then fades to some mellow keys and a single guitar chord coming in right at the end.
Well, as you can probably guess already, I think this is just SUPERB!!
FIG LEAF seem to me to have taken the best elements from progrock in the early seventies, added their own style and brought it right up to date for the nineties. If that makes any sense. A wonderful album, I just can't stop playing it. This is my album of the year so far. (I know it was released last year, but it's the best album I have heard this year.). This is a must for all lovers of Progrock, PINK FLOYD, GENTLE GIANT.
---
Metalheads /Rockers– even more than any other kinds of music fans – find it especially important to let friends and strangers know what they're into. Band apparel can serve as a password of sorts at concerts (e.g. "Is this guy alright? …Yep, he's wearing an uber-cool Fig Leaf shirt."), and some items are cool enough to inspire passersby to check out the band without any further recommendation. It's no wonder that band merchandise has been a huge part of the music industry since rock and roll, Hard Rock & Heavy Metal began.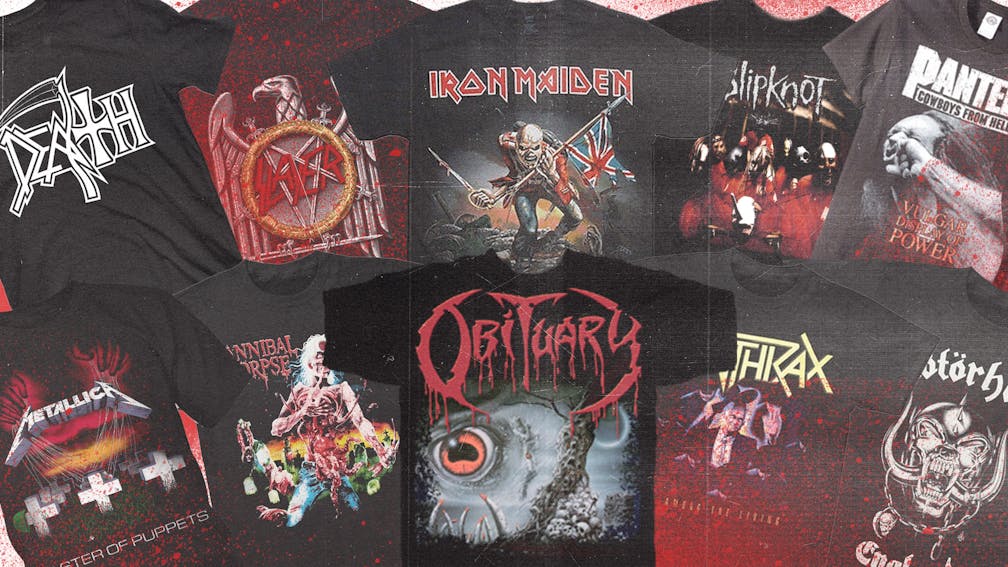 Worldwide Metal Inquisition CD Ultra RARE! Corruption, Fig Leaf, Fury, Gooseflesh, Horizon, Lambs, etc.