Description
Label: Vertigo ‎– 6641 807
Format: 2 × Vinyl, LP, Album
Country: UK  England
Released: 02 Jun 1978
Genre: Hard Rock, Classic Rock
Track listing:
A1 Jailbreak
Written-By – P. Lynott*
A2 Emerald
Written-By – B. Downey*, B. Robertson*, P. Lynott*, S. Gorham*
A3 Southbound
Written-By – P. Lynott*
A4 Rosalie / Cowgirl's Song
Written-By [Cowgirl's Song] – B. Downey*, P. Lynott*
Written-By [Rosalie] – B. Seger*
---
B1 Dancing In The Moonlight (It's Caught Me In Its Spotlight)
Written-By – P. Lynott*
B2 Massacre
Written-By – B. Downey*, P. Lynott*, S. Gorham*
B3 Still In Love With You
Written-By – P. Lynott*
B4 Johnny The Fox Meets Jimmy The Weed
Written-By – B. Downey*, P. Lynott*, S. Gorham*
---
C1 Cowboy Song
Written-By – B. Downey*, P. Lynott*
C2 The Boys Are Back In Town
Written-By – P. Lynott*
C3 Don't Believe A Word
Written-By – P. Lynott*
C4 Warrior
Written-By – P. Lynott*, S. Gorham*
C5 Are You Ready
Written-By – B. Downey*, B. Robertson*, P. Lynott*, S. Gorham*
---
D1 Suicide
Written-By – P. Lynott*
D2 Sha La La
Written-By – B. Downey*, P. Lynott*
D3 Baby Drives Me Crazy
Written-By – B. Downey*, B. Robertson*, P. Lynott*, S. Gorham*
D4 The Rocker
Written-By – B. Downey*, E. Bell*, P. Lynott*
Published By – Pippin The Friendly Ranger Music Co. Ltd.
Published By – Chappell & Co. Ltd.
Published By – Pippin The Friendly Ranger Music Pub. International Ltd.
Published By – E. H. Morris
Phonographic Copyright (p) – Phonogram Ltd.
Marketed By – Phonogram
Bass, Vocals – Philip Lynott*
Drums – Brian Downey
Guitar – Brian Robertson, Scott Gorham
Saxophone – John Earle (tracks: B1)
Live Recorded on
'Johnny The Fox' Tour, 1976
'Bad Reputation' Tour, 1977
LP 1 # 9199 645
LP 2 # 9199 646
Gatefold sleeve.
Comes with thick paper picture inner sleeves with photo collage.
Inner sleeve for disc 1 with printed code REC1 9199 645 and photos for Brian Downey in one side and Brian Robertson in the other side.
Inner sleeve for disc 2 with printed code REC2 9199 646 and photos for Scott Gorham in one side and Philip Lynott in the other side.
All titles published by Pippin The Friendly Ranger Music Co. Ltd./Chappell & Co. Ltd.
except "Southbound", "Dancing In The Moonlight (It's Caught Me In Its Spotlight)", "Are You Ready", "Baby Drives Me Crazy" published by Pippin The Friendly Ranger Music Pub. Int. Ltd./Chappell & Co. Ltd. and
"Rosalie" published by E. H. Morris/Pippin The Friendly Ranger Music Co. Ltd./Chappell & Co. Ltd.
Live and Dangerous is a live double LP by Irish band Thin Lizzy, released in 1978. It was recorded in London and Toronto in 1977, during the tours accompanying the albums Johnny the Fox and Bad Reputation.
Live and Dangerous was originally intended to be a studio album. Together with Tony Visconti they had a huge success with their previous album Bad Reputation, and the group wanted to work with him again. But since Visconti had a very tight schedule Phil Lynott came up with the idea that they spend two weeks together compiling a live album instead.
After they had decided which tracks they were going to use, Lynott asked if they could re-record some vocals due to technical issues. After spending some time overdubbing various bits, noticing the impact on the result, they ended up re-recording all the vocals, guitars and bass. So the only real live elements of Live and Dangerous are the drums and the audience. Visconti justified this by stating that every track was performed before a live audience. The exception being Southbound which was taken from a sound check onstage in Philadelphia. Tony Visconti has stated that the album is ""75% recorded in the studio.""
Other sources state that although the finished album contains overdubbing, it is claimed that it is ""75% live"".
Overdubs and mixing were done at Good Earth Studios in London, England.
It was also the last album to feature Brian Robertson who went on to form Wild Horses with ex-Rainbow bassist Jimmy Bain. On this album, the band segues immediately from  Cowboy Song  into The Boys Are Back in Town, on the line  a cowboy s life is the life for me. This technique was revisited with the same pair of live tracks in subsequent performances, and showcased more professionally on further live albums – examples being Thin Lizzy's later concert in Sydney with Gary Moore, and also on Thin Lizzy's Greatest Hits.
Personnel:
Brian Downey – drums, percussion
Scott Gorham – lead guitar, backing vocals
Phil Lynott – bass guitar, lead vocals
Brian Robertson – lead guitar, backing vocals
with
John Earle – saxophone on ""Dancing in the Moonlight""
Huey Lewis – harmonica on ""Baby Drives Me Crazy""
At the time of the recording, John Earle was in Graham Parker & the Rumour, and Huey Lewis was in Clover. Both of these groups were support acts for the tours that made up this album. "
Why Thin Lizzy's Live And Dangerous is the greatest live album ever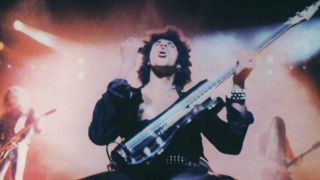 Thin Lizzy's quintessential double album captured the Lynott/Robertson/ Gorham/Downey line-up at their creative peak. The sleeve, featuring a leather trouser-clad Phil Lynott on his knees, was the perfect advertisement for a near flawless batch of tunes.
The sleeve erroneously credits the record to have been recorded in October 1977 in Canada (Seneca College Fieldhouse in Toronto, to be specific), but in fact the raw tracks on Live And Dangerous come from a very different location indeed: most of the songs were taken from the band's three-night stint at London's Hammersmith Odeon in November 1976, and the ones that weren't from there were actually taken from a King Biscuit Flower Hour radio concert that was recorded in Philadelphia the following year.
See, the truth is sometimes stranger than fiction. And one of the more bizarre reasons for the truth being er, obscured, on the album was simply "tax reasons", according to Lizzy guitarist Brian Robertson some years later.
But it matters little where the album was recorded, as the key is how stunning the renditions of songs from the Lizzy catalogue are. Jailbreak bursts from the speakers with an alarming ferocity that sets the tone for much of the album, the duelling, harmonised guitars of Scott Gorham and Robertson cutting through the mix over Lynott's thundering bass lines.
It's not only Lynott's bass playing that impresses, though; his impassioned vocals grab you by the throat and refuse to let you go until the end of side four, by which time you're left exhausted, but happy.
Until Live And Dangerous, that is. Whether it's the full-on assault of The Rocker or the glorious reinterpretation of Still In Love With You, you're feel like right there in the first row of that Lizzy gig; close your eyes and you can almost see Lynott in front of you, staring you down, almost daring you to challenge him. And it's nigh on impossible to resist the charms of The Boys Are Back In Town as it builds and builds to a magnificent singalong.
Like many great live albums, which have been tinkered with, polished up, even re-recorded in the studio after the event, Live And Dangerous is no exception. It has been suggested (by no less a person than Lizzy's former manager) that the record was about "75 per cent live". All that was added were a few overdubs to clean up the sound – a few vocals here and there, and the odd guitar solo. But it all dovetailed into a smooth but raw production in the hands of Tony Visconti.
Originally Live And Dangerous was just intended as a between-studio-albums release to satisfy their fans, and it came as a shock to the band how well it was received by the public at large, and more than four decades on from its first release in September of 1978, Live And Dangerous still sounds as vital and as fresh as it ever did.
Stunning.
---
Rosalie
On the Fighting album, Lynott took a great song by Bob Seger and made it his own. But the definitive version of Rosalie was nailed on Live And Dangerous. It had more balls, and the way it was intercut with part of Lizzy's Cowboy Song was just so effortlessly cool.
Still In Love With You
On Lizzy's greatest ballad, Lynott went against type: here, the heartbreaker was heartbroken. The song was originally recorded for 1974's Nightlife, featuring a co-vocal from Frankie Miller and a beautiful solo from Gary Moore. But the version on Live And Dangerous, with Scott Gorham and Brian Robertson playing so soulfully, has an even deeper emotional pull.
---
"as someone who was at one of the shows I can assure you that the album is an accurate representation of the classic Lynott-Robbo-Gorham-Downey line-up at the peak of their powers. It does what all truly great live albums do: delivers even better performances of stone-cold studio classics. Best of all, it conveys the sense – palpable at the shows – of what those guys were really like to be in the same room with. There must have been 50 people hanging out on either side of the stage, everyone from George Best to various Page 3 girls, TV celebs, groupies and drug dealers, all spilling on to the stage at various moments. You can't see it on the record, but you can hear the fun, feel the crackle!."  Mick Wall