Description
Here is the actual vinyl LP that is for sale:
Dirty Rotten Filthy Stinking Rich is the debut studio album by American glam metal band Warrant, released in 1989.
The album was highly successful, spawning the hit singles ""Heaven"" (#2, 1989), ""Down Boys"" (#27, 1989) and ""Sometimes She Cries"" (#20, 1990).
The album's sound is typical of the Sunset Strip glam metal scene of the 1980s, featuring heavy guitars and melodic, catchy choruses.
During the recording of the album, vocalist Jani Lane walked in on his best friend in bed with his girlfriend, leading to his nervous breakdown. The album was recorded without Lane's vocals, and its release was delayed by several months while Lane recovered. These events would later be recounted in the single ""I Saw Red"" on the band's following album, Cherry Pie. The record was produced and engineered by Beau Hill, who also contributed keyboards and backing vocals.
The album's themes, which include materialism (""32 Pennies"", ""D.R.F.S.R""), sex (""Down Boys"", ""So Damn Pretty"", ""Cold Sweat""), heartbreak (""Heaven"") and loneliness (""Sometimes She Cries""), would be echoed on later Warrant releases.
The smash hit ""Heaven"" took Warrant's record company by surprise. Indeed, once the widespread appeal of the song became apparent, the band were instructed to re-record the track to lend it a ""bigger radio sound"". The first 250,000 copies of the record featured the original version while later pressings featured a new version. ""Heaven"" had previously been recorded by Jani Lane and Steven Sweet's old band Plain Jane.
1. 32 Pennies
2. Down Boys
3. Big Talk
4. Sometimes She Cries
5. So Damn Pretty (Should Be Against The Law)
6. DRFSR
7. In The Sticks
8. Heaven
Their other big ballad hits were "I Saw Red" and "Sometimes She Cries," but I liked "Heaven" a bit more. It has a really catchy chorus, and some nice harmonies and the typical acoustic start before kicking into full power ballad mode. Singer Jani Lane battled alcohol and drug problems for many years and unfortunately passed away in 2011.
9. Ridin' High
10. Cold Sweat"
---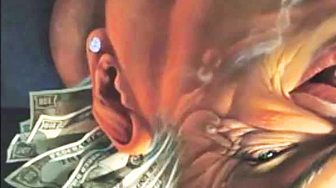 Not an especially subtle image, this. Warrant's debut album boasted a painting by Mark Ryden, depicting the fattest of all fat cats, a man called Fugazi (according to the album sleeve notes), who grows dollar bills out of his head, smokes a dollar bill cigar, has a dollar bill shirt collar and dollar sign tie, has gold teeth and wears a diamond earring. For a hungry band hoping to make their mark, it's a statement of naked ambition, riddled with disgust.
There are two hidden details that you can only see if you turn the album upside down and look at the portly tycoon's ear. Around the edge of his ear-hole, there's an image of a woman, whose head is just below the diamond earring, and her hair tumbles down the side of his temple. So, an unabashed image of the rewards available to would-be rock stars, right? Well, not quite. Just across from the ear lady, there's also a very angry looking bird leaning in to peck this fellow's eye out.