Description
Japanese legends Solitude play NWOBHM (old SAXON or TYGERS OF PAN TANG), have a rough vocalist a la old RUNNING WILD or GRAVE DIGGER. With the passion they put in their music and the excellent recording this is an excellent CD that both Traditional Metal fans and Thrashers should have. Japanese import
Check Audio (whole album): https://music.youtube.com/playlist?list=OLAK5uy_nbewkQgKx_LQ2PmLfVBccd59b7LoS97gY&feature=gws_kp_album&feature=gws_kp_artist
Line-Up:
Akira Sugiuchi – Vocals (ex-Sacrifice)
Shingo Ida – Guitar
Toru Nishida – Bass (ex-Sacrifice)
Tai Syouda – Drums (ex-Guardians Nail / also leading Seventh Son)
Tracks:
1. Virtual Image 07:13
2. You Wish 06:51
3. Two Faced In My Soul 08:17
4. Requiem Of The Kingdom 02:12 instrumental
5. Beyond The Storm 04:09 instrumental
6. Eagle Fly 07:51
36:33
5.0 out of 5 stars Motorhead-style traditional metal…from Japan
2001 Virtual Image is the debut CD from Japanese heavy metal band Solitude, which features former members of Sacrifice. The band plays straightforward, no-frills heavy metal the way God (a.k.a. Lemmy) intended. It hard-charging, high-octane stuff, full of chugging riffs, wicked solos and gruff vocals. Solitude is clearly inspired by bands like Motorhead, Accept, Venom and Judas Priest.
Virtual Image only has six songs, and two of those are instrumentals, so if you love this kind of traditional metal (and you know I do), chances are you'll get a kick out of this CD, especially if you can grab a copy of the disc – which was released by Japanese label Spiritual Beast – on sale. Turn it up and bang your head!
---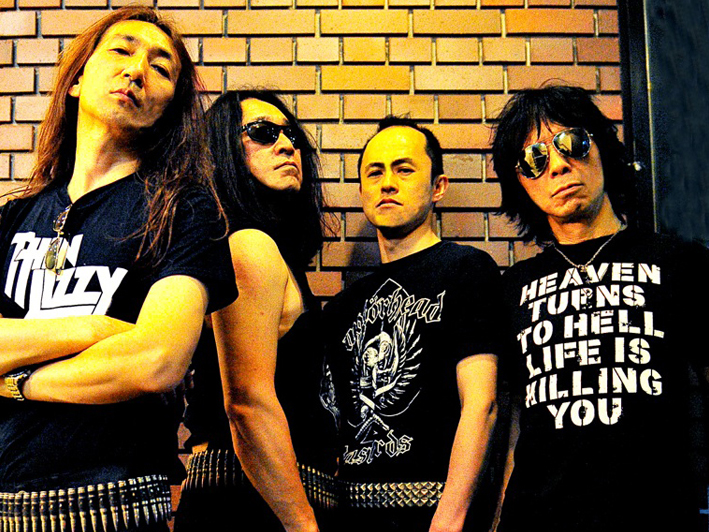 Discography:
2001 Virtual Image
2004 Eagleution – A Tribute To Saxon
(VA / Remedy Records (Germany))
2009 Brave The Storm
2015 Reach For The Sky
Biography:
The formation of SOLITUDE, a solitary band pursuing his own heavy metal dates back to 1996. From the formation in 1985 to the dissolution in 1992, he led the Japanese slash/underground scene, played not only with SODOM and NUCLEAR ASSAULT, but also founded SACRIFICE, which had a great influence on the later bands. Members and main composer Satoshi Sugiuchi <Vo> and Toru Nishida <B> who joined the band from around 1989 and participated in two albums, Yasuo Oyano <Ds> and Hiroki Nakamori. It was born by meeting <G> (both ex-RIP RIDE). The unnamed band continues to rehearse for the next three years, making songs and solidifying the band's direction. The sound is based on heavy metal, and a variety of tastes are scattered on it, as evidenced by the fact that it has been influenced by various music. The style is overflowing. Among them, 70's hard rock, progressive rock, and NWOBHM have a big influence.
In 1998, SOLITUDE officially decided the band name from several candidates. And finally, in March 1999, the first live. The stage lasted for an hour, and the pattern was highly acclaimed on the fanzine and the Internet, saying "The birth of a new guardian deity of heavy metal," "Answer to heavy metal," and "Shocking live stage." In September of the same year, the guitarist was replaced by Shingo Ida (ex-BARTOLOMMEO). Ida's peculiar crying phrase and melody will add new blood and breath to the sound of the band. In November, we recorded two songs, "Virtual Image", which can be said to be the representative song of the band, and "Eagle Fly" dedicated to SAXON, which the members love. This sound source was used as a "SOLITUDE Demo '99" for promotion in various directions.
In July 2000, in parallel with the live activity, started producing an album. On the other hand, in August, a big event called "HEAVY LINK" was launched and co-starred with UNITED, RITUAL CARNAGE, etc. As a result of aiming for a higher quality work, the recording lasted until December, and in addition to the two songs "Virtual Image" and "Eagle Fly" that were further powered up from the demo, "You Wish" that shows the liveliest excitement All 6 songs have been recorded. Finally, in September 2001, the long-awaited first album "Virtual Image" was released as the first of SPIRITUAL BEAST. Not only in Japan, this album has been highly evaluated by underground fanzines and webzines throughout the United States and Europe, as well as by German magazines such as "Heavy Order Was!?" Especially in Germany, "Virtual Image" was recorded on the sampler CD "Metal Crusade" of "Heavy Order Was!?"
Since drummer Koyano withdrew before the release of the album, he resumed live performances in Japan with the support of former CASBAH Takashi Kobayashi. From OUTRAGE and RAGING FURY to DEFILED, SIGH, and METALUCIFER, he continues his style while attacking various bands. After that, Yasushi Masada, who is a former GUARDIAN'S NAIL drummer and now head of his own band, SEVENTH SON, joined the "Headbangers Open Air" held in Hamburg, Germany in July 2003. From veterans such as BLITZKRIEG, TRESSPASS, and KILLER (Bel) to young players such as STORMWARRIOR, CRYONIC TEMPLE, and DOOMSWORD, he will perform with various overseas powerful bands. The performance was praised by local media such as Rock Hard magazine as "SOLITUDE is the highlight of this event", and the fact that the SOLITUDE call did not stop for a while even after the end of the performance I support it.
The band started preparing for the new album in 2004, and first provided "Rainbow Theme" ~ "Frozen Rainbow" to SAXON's tribute album "Eagleution – A Tribute To Saxon" planned by "Remedy Records" in Germany. .. While paying homage to the original, this cover, which emphasized aggressive vocals and a crying guitar, was the debut of the new lineup.
After that, in 2005, at the "Duryu Rock Festival" held in Daegu, the fourth largest city in Korea, JURASSIC JADE from Japan, MINDFLOW from Brazil, and the first Sapporo expedition were fulfilled. While working on recording the new album, the attitude of their uncompromising quality combined with the personal circumstances of the members meant that the work took longer than expected. At the end of 2008, when the recording was finally completed and only the final mix remained, Masada, who had been a drummer for about 5 years, left. In February 2009, the remaining three members will be joined by former ANTHEM drummer Ouchi "MAD" Takamasa, and will appear at NWOBHM's cover event "Denim And Leather" as "SOLITUDE with Mad Ouchi". As a result, Ouchi later joined SOLITUDE as an official member.
In December 2009, about eight years after the shocking debut album, the long-awaited new album "Brave The Storm" is released. Like the previous work, he was also a former bandmate of Ida, and after that he was in charge of engineers and producers BUCK-TICK, Chara, Tsukiko Amano and MAVERICK, who worked on various genres of work, Fuyu Inui. Mastering was performed at "West West Side Music" in NY by Alain Douches, who worked on MASTODON and other works in addition to THE AGONIST.
In April 2010, the band toured Tomeisaka in commemoration of the release of the album, and the Tokyo performance was the first one-man performance. In the summer, when we again visited Higashimeisaka and Kanazawa, we toured Hokkaido in November with label mate MAVERICK, and in January of the following year, we went to Japan-Korea tour with ENFORCER, a Swedish new star who leads the scene called NWOTHM. (Sweden's MEAN STREAK also accompanied in Japan performance) In September 2011, "Brave The Storm" was released in Germany from "Fastball Music" in Europe, and the band included a Kyushu expedition to commemorate it. Made a domestic tour. In the following July 2012, he will participate in the performance of SKULL FIST, a young NWOTHM band from Canada who is also a label mate, in Japan with WIDOW of the United States. At the end of the same year, the hosting event "Beasts Of War" that gathered domestic elite bands was also held, and the event continued even in the following year. In 2013, he accompanied a long-time ally RAGING FURY for the first time in about 21 years on a second album, called Reco, and in SPIRITUAL BEAST sponsored "JAPANESE ASSAULT FEST 13" (GIRLSCHOOL, VEKTOR, FASTKILL, AIR RAID etc) Performed energetic activities while performing new songs such as appearing.
And at the end of April 2014, we finally started recording the long-awaited new album. The equipment was brought into a closed movie theater in Gotemba, and the work was done, but the good ambience and environment to play at a loud volume that could not be in the city center later turned to the official studio "Tapestry Recording Studio". It will be renovated. Work continued while conducting a single expedition to Fukushima and Hiroshima, and the recording of the musical instrument team ended in early June. Song recording began in Tokyo in July, but at this point most of the songs had neither melody nor lyrics completed. In November of the same year, he appeared in "JAPANESE ASSAULT FEST 14" (SATAN, HEAVY TIGER, MIDNIGHT MALICE, ETERNAL ELYSIUM etc) for the second consecutive year.
The song recording was completed in 2015, and from April, mix work was done in Sweden by Magnus "Mankan" Sedenberg who worked on BULLET and CRUCIFIED BARBARA. Mastering was Magnus "Maxe" Axelson, who also worked on BULLET and CRUCIFIED BARBARA. Italian designer Verio Josto, who is known for his works such as WARLORD, MEDIEVAL STEEL, OSTROGOTH, ULTRA-VIOLENCE, and IRON KOBRA, is in charge of the artwork. 'S third album "Reach For The Sky" will be released from SPIRITUAL BEAST in June 2015. The band's band's first album since the concert in Nagoya started in August, supporting the album, which will appeal to a wide range of fans, old and new, saying that the members themselves are "faster catchy and older school than ever." It will be a large-scale national tour.