Description
Score 

February 1994

 

Men's Magazine L.A. Bust, Dani Ashe, Tonisha Mills, Colt 45, Veronica, Tawny Peaks

Paperback

 

FEATURES
26 The Adventures of TaTa Island
Two men, an enchanted island, 200 big-busted maidens, and a fuck off to the death Fiction by Dan Thomas
46 SCOREToons
Laugh a little with this cartoon special Humor by Bob Zahn
58 Jurassic Jugs
"Jurassic Park" may have been a blockbuster, but it was missing two things, and Jack knows what they are Humor by Jack Widner
69 Brassieres: Past and Present
An erotic look at the bra's development Article by Chris Castle

DEPARTMENTS
5 SCORECard
Reader's letters and comments
19 Fantasy SCORE
Artwork by Duncan Gutteridge
10 SCOREVideo
Deena Duos And Friends outtakes
15 Boob Beat
Boobs in the news by Elliot James
39 Bomber Girls
Artwork by Otis Sweat
85 HomeBodies
Readers' wives and girlfriends

PICTORIALS
20 T.J. Evans
29 Tawny & Tonisha
40 Laura Sands
49 L.A. Bust
61 Danielle Ashe
72 Veronica
89 Colt 45
not for sale to minors. You must be over 18 y.o to order this magazine.
Score May 1994 Superstars of big tits. 94 pages
Printed in the USA. illustrated throughout with explicit colour photos. Men's magazine devoted to big busts and super sexy natural women. 94 pages of pure brilliance; highly stylized imagery, with women looking  beautiful, alluring, graceful, splendid, wonderful, magnificent, and gorgeous.
---
L.A. Bust
---
Dani Ashe
---
TONISHA MILLS
---
Laura Sands AKA: Becky Clay, Becky Savage
Categories: Female, 80s
Bio:  Becky ClayShe had come to L.A., hoping to just find work, and not even thinking of modeling or acting, as so many do. She wound up modeling, tho, because she needed money, and in a hurry. It seems when she had first arrived, and gotten off the bus — all her belongings were stolen. That's right, she was flat broke! She saw an ad in local underground paper, an ad for an agent who specialized in nudes. She went to his office, he called me and probably several other photogs as well, and thus she started an all too-short career in the skin trade. Last I heard, she returned to her home in the South." It wasn't as short as Mr. Ellison states. Laura Sands performed in over 74 XXX sex videos from 1980 to 1989.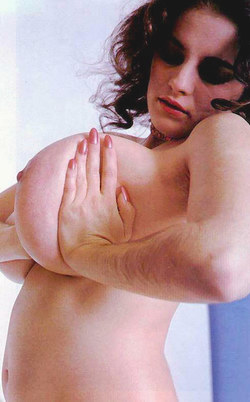 ---