Description
Kiss – Destroyer
Label:  Casablanca – CBC 4008, Casablanca – 0C 062 ◦ 97570
Format: Vinyl , LP, Album
Country: UK
Dated: 15 Apr 1976
Hard Rock , Classic Rock
Tracklisting
A1 Detroit Rock City 5:33
A2 King Of The Night Time World 3:15
A3 God Of Thunder 4:20
A4 Great Expectations 4:20
B1 Flaming Youth 2:55
B2 Sweet bread 3:20
B3 Shout It Out Loud 2:50
B4 Beth 2:45
B5 Do you love me 3:33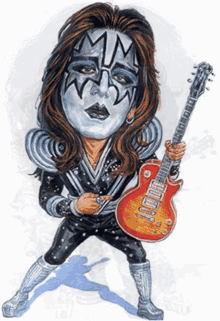 Phonographic Copyright (p) – Casablanca Records, Inc.
Marketed By – EMI Records Ltd.
Distributed By – EMI Records Ltd.
Lacquer Cut By – Harry Moss
Producer – Bob Ezrin
Notes
"Detroit Rock City" and instructions on how to join the Kiss Army.
Matrix / Runout (Side 1 runout): CBC 4008 A-1 (stamped) HTM (etched)
Matrix / Runout (Side 2 runout): CBC 4008 B-1 (stamped) HTM (etched)
After finally breaking through to the big time with 1975's Alive! LP, Kiss weren't about to go away quietly — but as they proved with their follow-up effort, they weren't going to play it safe either.
The band got down to work on what would become its fourth studio LP in the fall of 1975, settling into Electric Lady Studios in New York with producer Bob Ezrin. Ezrin, already a major name due to his work with Alice Cooper, exerted a level of authority and discipline that initially took the group by surprise — even if, as guitarist Paul Stanley later admitted, his uncompromising approach was exactly what they needed.
"Bob made a point of letting us know who was the boss," Stanley wrote in his memoir, 
Face the Music: A Life Exposed
. "He wore a whistle around his neck and referred to us as 'campers.' He told us we didn't know anything — which was true."
Ezrin's dogged pursuit of the band's best possible sound led the members of Kiss to do a number of things differently, from following his lead through round-table songwriting sessions to bassist Gene Simmons putting up with the producer yelling in his face for cutting out of a take before being given permission.
Although Kiss had already shown a willingness to use sleight of hand to achieve results, infamously adding heavy in-studio overdubs to Alive!, Ezrin led them a step further. While he wasn't above coaching the band members through the songs in increments so he could stitch together suitable recordings, he also had no qualms about drafting replacement players, as he did when he called in guitarist Dick Wagner to sub for Ace Frehley.
Frehley, according to multiple reports, was habitually late or absent during the sessions, and as Stanley saw it, exhibited an overall lack of interest in meeting the higher standards they saw themselves as being beholden to after Alive! turned into a hit. Whatever the reasons, he was held out in favor of Wagner for emerging tracks like "Flaming Youth," the Simmons composition "Sweet Pain" and "Beth," a ballad brought to the band by drummer Peter Criss.
"If someone doesn't turn up, the show must go on," Stanley told Guitar World years later. "You know, Ace has got his life under control these days, and I have great fun talking with him. But things were different back then. He was succumbing to the excesses of the rock 'n' roll lifestyle rather than taking advantage of its perks."
Even though the sessions broke down halfway through the album due to a contractual disagreement between Kiss and their label, Casablanca Records, work resumed early the following year at the Record Plant, and wrapped in February 1976. On March 15, fans heard the results in the form of the 10-track LP titled Destroyer.
As tended to be the case with Kiss early in their career, reviews were somewhat mixed, with Rolling Stone famously deriding Destroyer's "bloated ballads," "pedestrian drumming" and "lackluster performances," and Village Voice writer Robert Christgau, the self-styled "dean of American rock critics," targeting Ezrin for ladling "bombast and melodrama" onto a band that already had enough of both.
"They were really, really negative. One Kiss fan actually said that if he ever met me, he'd punch me in the nose on behalf of Kiss fans everywhere," laughed Ezrin later. "The core of the Kiss Army at the time was offended and angry, and particularly angry with me for having taken Kiss in a new direction."
Of particular concern was "Beth," the track that eventually sent sales of the album into overdrive. Though it gave Kiss their first Top 10 hit, the song — which served as Destroyer's fourth single after sneaking out as the B-side to "Detroit Rock City" — added a softer side to the group's theatrically aggressive image. As countless hard rock groups would later discover, courting radio play with a ballad can often yield impressive dividends, but it can also be a risky move in terms of an act's credibility with its hardcore fans.
"'Beth' wasn't an afterthought. It's a great song, and was part of the record. But there were other songs on that record that I felt were really important songs," said Ezrin. "And thank God 'Beth' got noticed, but I thought 'Detroit Rock City' was a very important song."
Destroyer went on to become Kiss' first platinum-selling studio album, but the backlash — and slow sales — soured the relationship between the band and Ezrin, who wouldn't work with them again until 1981's Music From "The Elder" LP. While Destroyer has more than earned its place among the group's better records, Simmons later looked back with understanding on the fan base's initial lack of enthusiasm. "We got big success – raw, mistakes, untuned guitars and all. Then we decided to do an arranged album with Bob Ezrin and do a ballad with a string quartet with kids singing on it," he told MusicRadar. "If you were a Kiss fan, I'd understand why you were angry. Yet it all comes down to songs — either the songs connect with the DNA of a band, or they don't."
That being said, Simmons stood by Destroyer, insisting they made the right move by immediately proving that Alive! didn't represent the full scope of their ambitions. "A band should have the backbone of a wild animal," he argued. "What they do is take risks. They pee on the ground and say, 'This is my territory.'"
Their territory for the rest of the decade — and much of the ensuing 40 years — was the Top 40, where they'd send a string of bestselling LPs in Alive! and Destroyer's wake. Before 1976 ended, they'd release yet another platinum-selling hit album, Rock and Roll Over, cementing their status as one of the decade's biggest rock bands — even if, as Simmons readily admitted, Kiss' fame had as much to do with the zeitgeist and their image as it did with the music.
"We're not a great band," Simmons shrugged to Rolling Stone the following year. "The musicianship is average, maybe even below, but in a year we're going to be the biggest band in the world. Two hundred million Americans out there don't appreciate subtleties. They want to be sledgehammered over the head with clear issues and no pussyfooting. Nobody hides behind any pseudointellectualism."
---
Track listing
1. ""Detroit Rock City"" Paul Stanley, Bob Ezrin Stanley 5:17
2. ""King of the Night Time World"" Stanley, Ezrin, Kim Fowley, Mark Anthony Stanley 3:19
3. ""God of Thunder"" Stanley Gene Simmons 4:13
4. ""Great Expectations"" Simmons, Ezrin Simmons 4:21
5. ""Flaming Youth"" Ace Frehley, Stanley, Simmons, Ezrin Stanley 2:59
6. ""Sweet Pain"" Simmons Simmons 3:20
7. ""Shout It Out Loud"" Stanley, Simmons, Ezrin Stanley, Simmons 2:49
8. ""Beth"" Peter Criss, Ezrin, Stan Penridge Criss 2:45
9. ""Do You Love Me?"" Stanley, Ezrin, Fowley Stanley 3:33
Gene Simmons – bass guitar, vocals
Paul Stanley – rhythm guitar, vocals
Ace Frehley – lead guitar, backing vocals
Peter Criss – drums, percussion, vocals
Additional musicians:
Dick Wagner -guitar solos on ""Flaming Youth"" and ""Sweet Pain""; acoustic guitar on ""Beth"" (unaccredited)
Brooklyn Boys Chorus -vocals on ""Great Expectations"", David and Josh Ezrin -voices on ""God of Thunder""
Chart Peak Position:
Sweden 4, Austria 6, Canada 6, U.S. Pop Albums 11, New Zealand 16, Japan 17, U.K. 22, Germany 36
Destroyer is the fourth studio album and fifth album overall by hard rock band Kiss, released on March 15, 1976 in the United States. It was the second consecutive Kiss album to reach the Top 20 in the United States, as well as the first to chart in Germany and New Zealand. The album was certified gold by the RIAA on April 22, 1976. It was certified platinum on November 11, 1976, the first Kiss album to achieve that distinction.
Coming on the heels of the group breakthrough album Alive!, Destroyer is easily the most ambitious studio recording of Kiss '70s catalogue. Bob Ezrin, who had previously worked with Alice Cooper, was brought in to produce the album. Among the production flourishes Ezrin introduced to Kiss were sound effects, strings, screaming children and reversed drums (on ""God of Thunder"") as well as a children choir.
Destroyer is the first Kiss album to prominently feature outside musicians, such as members of the New York Philharmonic-Symphony Orchestra. However, one musician was not credited: Dick Wagner, from Alice Cooper band, replaced Ace Frehley on tracks such as ""Sweet Pain"" (as Frehley didn't want to interrupt a card game he was playing during recording sessions for the song) and even on a song that Frehley himself co-wrote, ""Flaming Youth"". Wagner also played the acoustic guitar found on the song ""Beth"". The success of Alive! and Destroyer enabled the band to embark on their first tour of Europe.
Throughout the years, ""Detroit Rock City"", ""God of Thunder"", ""Shout It Out Loud"", ""King of the Night Time World"", and ""Do You Love Me?"" have become permanent staples on the band concerts.
In 2003, the album was ranked number 496 on Rolling Stone magazine list of the 500 greatest albums of all time.
After attaining modest commercial success with their first three studio albums, Kiss achieved a commercial breakthrough with the 1975 concert album Alive! It was the first album by the band to be certified gold, and eventually went multi-platinum. The success of Alive!, which spent 110 weeks on the charts, benefited not only the struggling band but their cash-strapped label, Casablanca Records. Kiss signed a new contract with Casablanca in late 1975, partly because the label had been very supportive from the start of the band career. The contract was only for two albums, however, an indication that Casablanca was unsure if the group could duplicate the accomplishments of Alive!
Rehearsals for Destroyer began in August 1975, while the group was embarked on their supporting tour for Alive! Bob Ezrin, who had produced a string of successful albums for Alice Cooper, was chosen to work with Kiss. The band felt that Ezrin was the right person to help them take their sound to the next level and to maintain the commercial success they had achieved with Alive![8]
The first recording sessions for the album took place from September 3–6, 1975 at Electric Lady Studios in New York City, during a brief break between the Dressed to Kill and Alive! tours. The basic album tracks were recorded during this time. The majority of the recording sessions for Destroyer took place in January 1976, after the conclusion of the Alive! tour.
The first demo recorded during the Destroyer sessions was ""Ain't None of Your Business,"" featuring Peter Criss on vocals. The plodding, heavy song, written by country songwriters Becky Hobbs and Lew Anderson, was rejected by the band and later appeared on the 1977 debut album by Michael Des Barres' band Detective. Although this song was rejected other outside songs and suggestions were accepted by the band. In particular, Kim Fowley and Mark Anthony became important contributors during the songwriting process.
During the recording sessions Ezrin resorted to numerous tactics designed to increase the quality of music Kiss recorded. Because none of the group were trained musicians, Ezrin halted the sessions at one point to provide lessons in basic music theory. In an effort to instill a sense of discipline, he wore a whistle around his neck and exhorted the band with sayings such as, ""C'mon campers, let get going!"" When Simmons stopped playing early during the recording of an outro Ezrin yelled at him, saying, ""Don't you ever stop a take unless I tell you!"" Paul Stanley later compared the experience of working with Ezrin as ""musical boot camp"" but said that the group ""came out a lot smarter for it."" Simmons echoed the sentiment by stating, ""It was exactly what we needed at the time."" Lead guitarist Ace Frehley, who did not approach the recording process with the discipline Ezrin wanted, often found himself at odds with the producer. He bristled at being asked to perform multiple takes of his solos, and became uncooperative. As a result Ezrin brought in session guitarist Dick Wagner, Ezrin threatened to replace Ace with him and Ace cooperated.
The cover art for Destroyer was painted by fantasy artist Ken Kelly. Prior to the album release Kelly work was brought to the attention of Gene Simmons, who met with Kelly to discuss ideas for Destroyer. Kelly agreed but asked to see Kiss perform live first to gain inspiration. He was invited to a show and given a backstage pass. He later said of the performance, ""It blew me away."" Kelly was later commissioned by the band to draw the cover for 1977 Love Gun.
Kelly original version of the album cover was rejected by the record company because they felt the scene was too violent looking with the rubble and flames. Also, the original version had the members of KISS wearing the Alive Costumes.
The front cover shows the group striding on top of a pile of rubble, and a desolate background spotted with destroyed buildings, some of which are engulfed in flames.
""Beth"" marked a musical departure for Kiss, with its heavy use of an orchestra section. The song became a #7 hit for the group.
""Shout It Out Loud""
This song, with its call-and-response verses and anthemic chorus, is typical of the hard rock songs on Destroyer.
Destroyer sold well upon its release on March 15, 1976 and was certified gold on April 22. Although exact sales figures are not known, Paul Stanley stated that the album initially sold 850,000 copies in the U.S., well in excess of any of Kiss first three studio albums. After peaking at #11 on the Billboard album chart on May 15, however, Destroyer quickly fell and by August was at #192. The first three singles ""Shout It Out Loud,"" ""Flaming Youth,"" and ""Detroit Rock City" failed to ignite sales any further, leading the band and its management to view the album as a failure relative to Alive! The band and Ezrin cited fan backlash as the reason Destroyer did not meet sales expectations. Ezrin also stated that the ""grassroots rock press"" was particularly critical of the album. Rolling Stone referred to ""bloated ballads,"" ""pedestrian drumming,"" and ""lackluster performances"" in its review.
It was not until radio stations started playing the B-side of the ""Detroit Rock City"" single, ""Beth,"" that the album started to sell as expected. The ballad, which according to Simmons was deliberately put on the B-side to force stations to play ""Detroit Rock City,"" started receiving numerous listener requests and became an unexpected hit. ""Beth"" was re-released as the fourth single in late August, and it peaked at #7 on the Billboard singles chart on September 25. It was the group first Top 10 song and re-ignited sales of the album. On November 11 Destroyer became the first Kiss album to be certified platinum.
---
---