Description
Its amazing how much this band has progressed since their last album. This is finally Thrash Metal that kicks ass! Well done guys.
Check them out https://delirious1.bandcamp.com/album/designed-by-violence
MINT CONDITION.
Delirious   Designed By Violence
Label: B-Mind Records   0117022PRE
Format: CD
Country: Germany
Released: 2001
Genre: Thrash
Tracklist
1 Forgotten Guilt
2 Psychotic Disarray
3 Death Voice
4 Pale Existence
5 On One
6 Death Scout
7 Where The Song Has No Name
8 Contra State
9 Quima De Araquivo
10 Last Words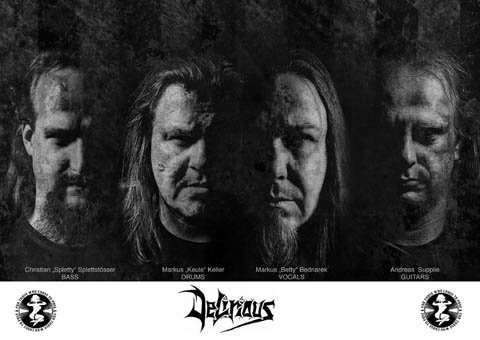 Its no exaggeration when I say that good old Thrash Metal is currently celebrating a renaissance. Its nice that this almost forgotten style is celebrating a comeback, completely gone it never had been…
DELIRIOUS already are offering us their second album here. Their variant of Thrash, in my opinion, is deeply rooted within the Bay Area, its impossible to miss the obvious TESTAMENT-influence, why not. Especially the great Chuck Billy-grunts are very well integrated into the DELIRIOUS-sound. Sometimes you'll also find more intricate parts in the songs, but without changing over into "progressive" areas, DELIRIOUS just try to bring in variability into their songs. But basically its the axe that leads the way! Here speedy, there groovy, but without drifting off into Nu Metal-lows – they know how to do it.
The sovereign guitar-wall of Andreas Supplie and Alex Scwiertnia just has to be mentioned and vocally I have to place DELIRIOUS into the spearhead of the genre. Compared to comparable acts like PARADOX or BLACKEND they have a shouter in Markus Bednarek who really stands up to the international test. His voice, which alternates between rough, clear and grunty vocals, is without competition in Germany! A true feast for headbangers are crackers like "Death Voice" or the merciless "Quima De Araquivo". Even a semi-ballad can be found, "No One" is the title and shows the melodic side of DELIRIOUS! But towards the end it picks up momentum. Thats the direction, smasher upon smasher!
So who still is mourning the good old Bay Area-times or technically demanding straight Thrash Metal should check out "Designed By Violence". An opus without fillers!