Description
Dave Sharman is an English guitarist, singer-songwriter, whose primary genre is rock and metal. He is also a multi-instrumentalist and record producer.
Exit Within
 

– initial transition to song-based work (1992–1994)

Sharman's second studio album saw a move away from pure instrumental guitar work and began to take a more song-based approach. The ten-track album featured four vocal tracks: Man, Home, Cos You're A Woman and Attitude, once again all the material was written by Sharman. German Thomas Brache was recruited by Sharman to take on lead vocals , with Sharman providing the backing vocals. Sharman invited Neil Murray who had previously played with Black Sabbath, Whitesnake and Brian May to play bass on Exit Within. Once again Sharman's work received significant critical acclaim from the music press, with Sean Tyler from Kerrang magazine saying Sharman had done well to avoid the pitfalls that so often befall the guitar based artist and that with a concerted effort he may yet rewrite the rulebook.

Tracks
1. Man 6:48
2. Breeze 3:50
3. Home 5:10
4. Andromeda 3:40
5. Cos You're a Woman 3:32
6. Frantic 1:49
7. Attitude 4:01
8. Grace 3:13
9. Trucker 5:03
10. The River 2:15

Total Running Time: 39:21

Dave Sharman adds vocals to his music with the brilliant Thomas Brache. This is best described as melodic metal with fast shredding coupled with hard rocking Scorpions like vocals. Six of the songs are instrumental and four have vocals. 87/100

Just Splendid, Dave Sharman is such a hugely underrated talent, really worth a listen if you haven't come across him before..

All Music and Lyrics by: Dave Sharman Guitars: Dave Sharman Lead Vocals: Thomas Brache Bass: Neil Murray Drums: Neil Huxtable * Bass on Trucker: Dave Sharman Produced by Ralf Krause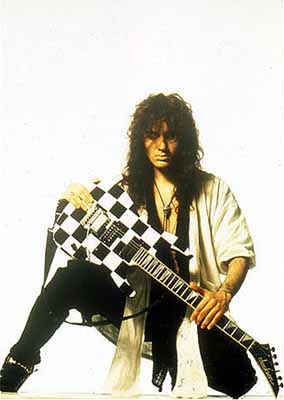 Band formed by the guitar hero DAVE SHARMAN, and this was his second album. He also had NEIL MURRAY in his band (a guy we know from GARY MOORE, VOW WOW, WHITESNAKE and a long etc…) on bass and to be honest he is much more famous than DAVE SHARMAN.
EXIT WITHIN from 1992 kicks off with a great track named MAN. Here Dave shows how good he can play guitar. It got some increible guitar melodies that will make you move. Very catchy and best song on this record.
BREEZE is a instrumental track that will make you dream, nice acoustic melodies.
HOME is just a great American souding hard rock song (like SLAUGHTER, STEELHEART or FIREHOUSE) again with some great guitar riffs.
ANDROMEDA is a instrumental track like GRACE and TRUCKER.
COS YOU´RE A WOMAN is nothing special, same with the short FRANTIC or THE RIVER. ATTITUDE is again a good song.
This lp got 6 instrumentals and four with vocals.
Este segundo disco del heroe de la guitarra tenia en sus filas al bajista Neil Murray -VOW WOW, GARY MOORE, WHITESNAKE etc..-y la verdad era más famoso que el propio Sharman. En fin, en este disco hay 6 instrumentales y 4 son cantadas.