Description
NEL 6017, Super deluxe
Black Sabbath   Sabbath Bloody Sabbath
Label: NEMS  – NEL 6017
Format: Vinyl, LP, Album
Country: Netherlands
Released: 1980
Producer, Written-By, Arranged By – Black Sabbath
All songs by Tony Iommi, Ozzy Osbourne, Geezer Butler and Bill Ward.
Side 1
1. ""Sabbath Bloody Sabbath"" Black Sabbath 5:45
2. ""A National Acrobat"" Black Sabbath 6:16
3. ""Fluff"" Black Sabbath 4:11
4. ""Sabbra Cadabra"" Black Sabbath 5:59
Side 2
1. ""Killing Yourself to Live"" Black Sabbath 5:41
2. ""Who Are You?"" Black Sabbath 4:11
3. ""Looking for Today"" Black Sabbath 5:06
4. ""Spiral Architect"" Black Sabbath 5:29
Ozzy Osbourne – vocals, synthesizer
Tony Iommi – all guitars, piano, synthesizer, organ, flute
Geezer Butler – bass guitar, synthesizer, mellotron
Bill Ward – drums, timpani, bongos in ""Sabbath Bloody Sabbath""
Rick Wakeman – keyboards, synthesizer, piano on ""Sabbra Cadabra""
Will Malone – conductor, arranger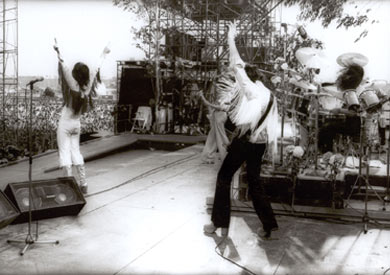 Sabbath Bloody Sabbath is the fifth studio album by the British heavy metal band Black Sabbath, released in 1973. With this album, the band expanded upon their slow, crunching style of music but incorporated progressive rock elements such as synthesizers, strings, keyboards and more complex, orchestral arrangements.
Following the 1972-1973 world tour in support of their Volume 4 album, Black Sabbath again returned to Los Angeles, California to begin work on its successor. Pleased with Volume 4, the band sought to recreate the recording atmosphere, and returned to the Record Plant Studios with new producer and engineer Tom Allom. With new musical innovations of the era, the band were surprised to find the room they had used previously at the Record Plant was replaced by a ""giant synthesizer"". The band rented a house in Bel Air and began writing in the summer of 1973, but due in part to substance issues and fatigue, were unable to complete any songs. ""Ideas weren't coming out the way they were on Volume 4 and we really got discontent"" Iommi said. ""Everybody was sitting there waiting for me to come up with something. I just couldn't think of anything. And if I didn't come up with anything, nobody would do anything.""
After a month in Los Angeles with no results, the band opted to return to the UK, where they rented Clearwell Castle in The Forest of Dean, Gloucestershire, England. ""We rehearsed in the dungeons and it was really creepy but it had some atmosphere, it conjured up things, and stuff started coming out again"". While working in the dungeon, Iommi stumbled onto the main riff of ""Sabbath Bloody Sabbath"", which set the tone for the new material.
Recording was completed at Morgan Studios in Willesden, North London in 1973. Keyboardist Rick Wakeman of the band Yes (who was recording Tales from Topographic Oceans with Yes in the next studio) was brought in as a session player, appearing on ""Sabbra Cadabra"".
Building off the stylistic changes introduced on Volume 4, new songs incorporated synthesizers, strings, keyboards and more complex arrangements. ""Who Are You?"" incorporates a Moog, a common instrument in progressive rock at the time. Lyrics of some songs on the album were written about problems within the band at the time.
""Killing Yourself to Live"" was written by bassist Geezer Butler while in hospital for kidney problems caused by heavy drinking. Drummer Bill Ward was also suffering from binge drinking, and the song reflects the problems caused by their ""extreme"" lifestyles. An earlier incarnation of the song can be heard on the records Live at Last and Past Lives.
Black Sabbath released Sabbath, Bloody Sabbath on 1 December 1973. For the first time in their career, the band began to receive favourable reviews in the mainstream press, with Rolling Stone calling the album ""an extraordinarily gripping affair"", and ""nothing less than a complete success"". Later reviewers such as All Music Eduardo Rivadavia cite the album as ""a masterpiece, essential to any heavy metal collection"", while also displaying ""a newfound sense of finesse and maturity"".
The album marked the band fifth consecutive platinum selling album in the United States. It reached number four on the UK charts, and number eleven in the US.
In the UK, it was the first Black Sabbath album to attain Silver certification (60,000 units sold) by the British Phonographic Industry, achieving this in February 1975.
The band began a world tour in January 1974, which culminated at the California Jam festival in Ontario, California on 6 April 1974. Attracting over 200,000 fans, Black Sabbath appeared alongside such '70s rock giants as Emerson, Lake & Palmer, Deep Purple, Earth, Wind & Fire and The Eagles.